"Welcome to the Catholic Student Center, Newman Community, at Washington University in St. Louis. Whether you are of the Catholic faith, a different faith, or no faith, you are welcome here. It is our conviction that God has a dream for the world — "that all may be one" (John 17:21). We are here to help ignite that dream in the lives of our students and do all we can to help them become capable of that dream. Come join us as we kindle God's dream!" - Fr. Gary Braun
About the CSC
The Catholic Student Center Newman Community, affectionately known around the Washington University campus as the CSC, offers a host of opportunities to all students, Catholic and non-Catholic alike to grow intellectually, morally, socially, and spiritually according to the wisdom of the Catholic Church. Masses at the CSC are always full of energy and spirit, and there are many ways to become more involved in that atmosphere. Many community members embrace the Word of God in a physical form during the Mass by serving as liturgical ministers - as greeters, lectors, communion ministers, sacristan, and ministers of hospitality, or as participants in music ministry as singers and instrumentalists.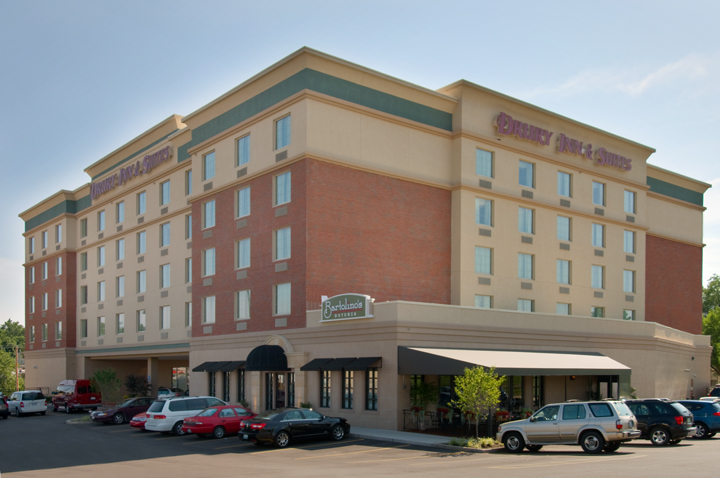 Only minutes away from Washington University, the Drury Inn & Suites near Forest Park offers discounted rates and many free extras for Wash U visitors. Located at the intersection of Hampton Ave/I-44, guests can start their day off right with our free Hot Breakfast, which includes scrambled eggs, biscuits & gravy, sausage and make-your-own Belgian waffles. For more free food, enjoy our free popcorn and soda served in the lobby every afternoon, or the hot food and cold beverages served at our free 5:30 Kickback®. Drury also provides free wireless Internet, free long distance calls, free covered parking, an indoor/outdoor swimming pool and exercise room. To book the special Washington University visitor rate, click here to reserve online and use promotion code #307236. We look forward to seeing you as our guest at the Drury Inn & Suites near Forest Park!
Our Mission Statement and Creed
THE CATHOLIC STUDENT CENTER at Washington University is a house of Catholic formation and a community of hospitality to students of all faiths. The Catholic Student Center strives - through education, service, and a worshipping community that seeks to know and become Christ - to form students intellectually, morally, socially, and spiritually according to the wisdom of the Catholic Church, so that they become active participants in parish life and moral and spiritual leaders in Church and society for the 21st century.

EL CENTRO DE ESTUDIANTES CATÓLICOS en la Universidad de Washington es una casa de formación católica y una comunidad de hospitalidad para los estudiantes de todas las religiones. El Centro de Estudiantes Católicos se esfuerza - a través de la educación, el servicio, y la adoración de una comunidad que busca conocer y convertirse en Cristo - para formar a los estudiantes intelectualmente, moralmente, socialmente y espiritualmente, según la sabiduría de la Iglesia Católica, para que se conviertan en participantes activos en la vida parroquial y líderes morales y espirituales en la Iglesia y en la sociedad para el siglo 21.

华盛顿大学天主教学生中心是由天主教信仰凝聚起来的团体。我们热烈欢迎来自五湖四海,各种文化与信仰的同学和朋友。天主教学生中心是一个渴望通过教育,服务,和祈祷来了解和成为基督的团体。我们根据天主教教会的智慧,培养学生的智力,道德,社交的能力,使他们成为积极参与教区生活,成为教会和社会的道德精神领袖。

워싱턴 대학의 "카톨릭 학생 센터" 는 카톨릭 지역사회의 집과 모든 종교의 학생들을 위한 친절한 환대의 커뮤니티입니다. " 카톨릭 학생 센터"는 교육,서비스,그리고 신앙 커뮤니티를 통하여 그리스도를 알게하고, 그리스도 신자가 되게하는 방법을 찾는 것을 노력하고 있습니다. 카톨릭 교회의 지혜를 통해서, 학생들을 보다 지적인, 도덕적인, 사회적인, 정신적인 구성원으로 만들며, 그들을 적극적인 교구 참가자가 되게하고, 21세기 사회와 교회에 도적적이고, 영적인 지도자가 될수 있도록 합니다.

LE CENTRE CATHOLIQUE POUR LES ÉTUDIANTS à Washington University in St. Louis est une maison de formation catholique ainsi qu'une communauté dédiée à l'hospitalité envers les étudiants de toute confession religieuse. En se concentrant sur l'éducation, le service et l'adoration collective de Dieu, le Centre se consacre à guider intellectuellement, moralement, socialement et spirituellement les étudiants, afin qu'ils deviennent des membres actifs de leurs paroisses et pour qu'ils s'engagent dans la domaine moral et spirituel de l'Église et de la société du XXIème siècle.

COMMUNITAS SCHOLASTICA CATHOLICA Washingtonianae Universitatis est domus institutionis Catholicae et societas hospitalitatis discipulis fidium omnium. Quae Communitas Scholastica Catholica nititur--per educationem, ministerium, et cultus societatem quae tendit scire et factam esse Christum--instituere discipulos mente, moribus, societate, spiritu, ex sapientia Catholicae Ecclesiae ut actores in parochiae vita et duces morales et spirituales in Ecclesia et societate pro saeculo uno et vicesimo fiant.

تأسس المركز الكاثوليكي الطلاّبي في جامعة واشنطن بمبادرة كاثوليكية ليكون بيت استضافةٍ يلتقي فيه طلابٌ من كل المعتقدات. من خلال التعليم والخدمة والجماعة العابدة الطامحة إلى معرفة المسيح، يسعى المركز إلى بناء التلامذة فكرياً وأدبياً واجتماعياً بما يتماشى وحكمة الكنيسة الكاثوليكية، كيما يصبحون مشاركين نشيطين في حياة الأبرشية، وقادة روحيين وأدبيين في الكنيسة والمجتمع للقرن الحادي والعشرين القرن 21.