The CSC's Science and Faith Program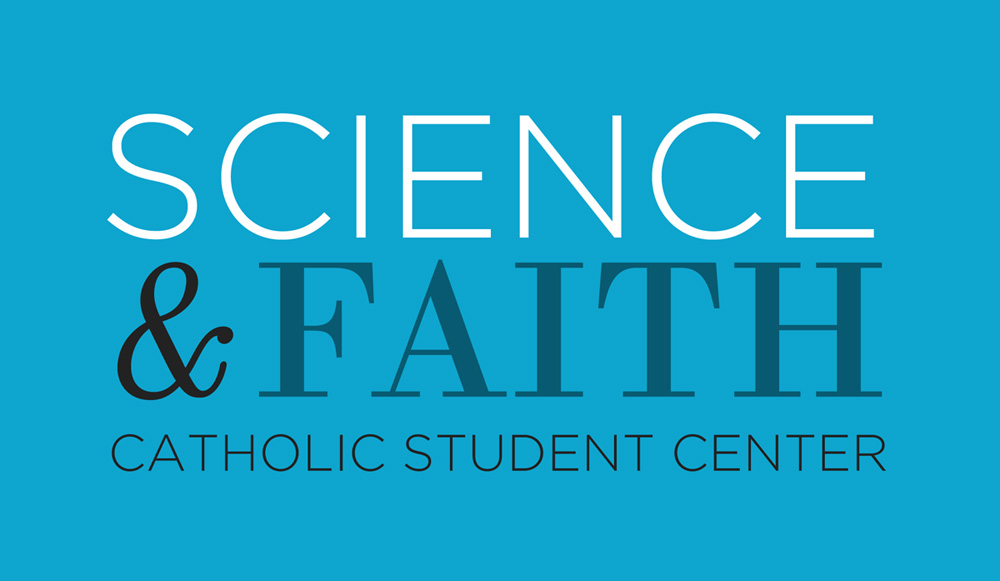 The Science and Faith program is a community-focused project that brings to light the intertwining of scientific study and religion to the greater CSC and Washington University communities. It will include opportunities for the CSC's scientific community to come together to learn, discuss, and grow through talks, book discussions, and other events.
Can Science Disprove God?
The following talk by Father Robert Spitzer, S.J. was given on Sept. 30th, 2013 at the CSC entitled: "From Nothing to Cosmos: Can Science Disprove God?"
2013-2014 Young Catholic Scholars
George Rizk is a junior studying Neuroscience through the Biology department at Washington University in St. Louis. He sought out the Science and Faith program because he desires to discover the deeper connections between everyday applications of science and God, and how the two are integrated. He wants to truly see the reflection of faith in his scientific work, but also understand science as a part of the entirety of his faith. He hopes to pursue Physical Therapy after graduating, and believes that the Science and Faith program can assist in his journey of finding the joy and motivation to fully embrace his faith and his career. He is eager to enrich his understanding of the intersections of science and faith through the CSC community and through science mentors. Around the CSC, he is involved in Freshman Welcome team, Awakening, LXG, and Spikeball. He loves the people and camaraderie at the CSC, and a favorite pastime of his is to have meaningful conversations with others. He is an intramural soccer player, and works at a Surgery lab on the WashU Medical campus. He enjoys salsa dancing, biking through Forest Park, bowling, camping, singing, cooking, and reveling in the company of friends and family. He is looking forward to a wonderful year of spiritual and intellectual growth, and an opportunity to discuss and share new discoveries of faith with the CSC community.
Alex Dressler is a senior from St. Louis studying both chemistry and mathematical statistics. He has had the pleasure of being an RA, a member of Chimes Junior Honorary, and executive for Campus Y, and an executive for CS40. This year, he is excited to dive deeper into the connection between faith and science. He has always held this idea in his head while studying for classes, but he believes that a more in depth approach will reveal incredible connections between the two and strengthen his faith throughout the process. After school, he hopes to attend medical school after a gap year, where he hopes to study anesthesiology.
2012-2013 Young Catholic Scholars
Thanks to the Scientists in Congregations grant from the Templeton Foundation, Michael Harries and Emily Kenney have been awarded $2500 scholarships to be our Second Young Catholic Scholars. These two students have been going on a personal journey of faith and growth through theological and scientific study with the Young Catholic Scholars Program Directors, Sr. Amy Hereford and Dr. Irene Schulze. This journey is organized around the study of Ilia Delio's Christ in Evolution. In addition to their studies, they are spearheading the planning of the Science and Faith program events.
Michael Harries is a senior studying neuroscience through the Biology Department. On campus he is a member of GlobeMed, Strive for College, and is a Gephardt Institute for Public Service Civic Scholar. His questions of faith and science have been piqued through his research experience in a pediatric lab where he studied a neonatal disease and in a neurosurgery lab where he is currently studying the after effects of stroke. He hopes to attend medical school after graduation. In addition to his passion for science Michael enjoys playing soccer, running and reading. He is very thankful for the opportunity to further explore the intersection of his faith and his studies.
Emily Kenney is a sophomore studying Biomedical Engineering at Washington University in St. Louis. "I applied to be a Young Catholic Scholar, because I earnestly seek to both discuss and discover the connections between faith and science." During her freshman year at Wash U, she was challenged by friends and acquaintances who discussed their questions about faith – about Bible quotes that they didn't understand and about disagreements between religion and their education in science. She strongly desire to educate herself as well as help individuals find peace between the two areas in their life and learn how science and faith can intertwine and support one another. In addition to the CSC, she is Internal Vice President of the Sophomore Honor Society (Lambda Sigma), Course Assistant for the Freshman Engineering Seminar (EN120), and MERIT (Medical Equipment Restorers In Training) through Engineering World Health. She enjoys smiling, dancing, ice cream, singing, community service, laughing, tennis, and spending time with friends and family! She has already benefited immensely from the opportunity of being a Young Catholic Scholar, and hopes to share her discussions with others in the CSC community.
2011-2012 Young Catholic Scholars
David Bundy is a fourth year PhD student in the Biomedical Engineering Department at Washington University and has been a member of the CSC community since he came to Washington University in 2008. His research is focused on understanding how the brain controls movements so those brain signals can be used to develop novel neuroprosthetic devices for patients suffering from motor impairments such as stroke, spinal cord injury, or ALS, and he hopes to one day run his own research lab as a professor. When not working in the lab or reading, David enjoys running, playing the guitar, or hanging out with his amazing wife Elizabeth.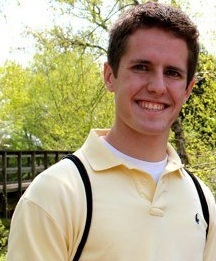 Joe McDonald is a sophomore studying Biomedical Engineering with a Minor in Health Care Management. On campus, he is a member of Sigma Nu and is a member of both the Ultimate Frisbee and Triathlon Club teams. Also, he plays drum set for CSC services. He started playing drums at mass in high school at Chaminade College Preparatory here in St. Louis, Missouri. It was there that his biology teacher first introduced him to the tough questions regarding the Church and science. He is very excited to be a part of this program, and is looking forward to the overall experience.
Suggested Reading
Below is a list of books that the Young Catholic Scholars, or others interested in the intersection of Faith and Science have recommended to the community. Many of these can be found in the CSC Library.
Christ in Evolution by Ilia Delio
The Emergent Christ by Ilia Delio
The Sacred Depths of Nature by Ursula Goodenough
A Window to the Divine by Zachary Hayes
If you would like more information on the Science and Faith Program, or the Young Catholic Scholars program in general, please contact a member of our staff, (314-935-9191 or this page), who will forward your inquiry or comment as needed. Thank you.
Our Mission Statement and Creed
THE CATHOLIC STUDENT CENTER at Washington University is a house of Catholic formation and a community of hospitality to students of all faiths. The Catholic Student Center strives - through education, service, and a worshipping community that seeks to know and become Christ - to form students intellectually, morally, socially, and spiritually according to the wisdom of the Catholic Church, so that they become active participants in parish life and moral and spiritual leaders in Church and society for the 21st century.

EL CENTRO DE ESTUDIANTES CATÓLICOS en la Universidad de Washington es una casa de formación católica y una comunidad de hospitalidad para los estudiantes de todas las religiones. El Centro de Estudiantes Católicos se esfuerza - a través de la educación, el servicio, y la adoración de una comunidad que busca conocer y convertirse en Cristo - para formar a los estudiantes intelectualmente, moralmente, socialmente y espiritualmente, según la sabiduría de la Iglesia Católica, para que se conviertan en participantes activos en la vida parroquial y líderes morales y espirituales en la Iglesia y en la sociedad para el siglo 21.

华盛顿大学天主教学生中心是由天主教信仰凝聚起来的团体。我们热烈欢迎来自五湖四海,各种文化与信仰的同学和朋友。天主教学生中心是一个渴望通过教育,服务,和祈祷来了解和成为基督的团体。我们根据天主教教会的智慧,培养学生的智力,道德,社交的能力,使他们成为积极参与教区生活,成为教会和社会的道德精神领袖。

워싱턴 대학의 "카톨릭 학생 센터" 는 카톨릭 지역사회의 집과 모든 종교의 학생들을 위한 친절한 환대의 커뮤니티입니다. " 카톨릭 학생 센터"는 교육,서비스,그리고 신앙 커뮤니티를 통하여 그리스도를 알게하고, 그리스도 신자가 되게하는 방법을 찾는 것을 노력하고 있습니다. 카톨릭 교회의 지혜를 통해서, 학생들을 보다 지적인, 도덕적인, 사회적인, 정신적인 구성원으로 만들며, 그들을 적극적인 교구 참가자가 되게하고, 21세기 사회와 교회에 도적적이고, 영적인 지도자가 될수 있도록 합니다.

LE CENTRE CATHOLIQUE POUR LES ÉTUDIANTS à Washington University in St. Louis est une maison de formation catholique ainsi qu'une communauté dédiée à l'hospitalité envers les étudiants de toute confession religieuse. En se concentrant sur l'éducation, le service et l'adoration collective de Dieu, le Centre se consacre à guider intellectuellement, moralement, socialement et spirituellement les étudiants, afin qu'ils deviennent des membres actifs de leurs paroisses et pour qu'ils s'engagent dans la domaine moral et spirituel de l'Église et de la société du XXIème siècle.

COMMUNITAS SCHOLASTICA CATHOLICA Washingtonianae Universitatis est domus institutionis Catholicae et societas hospitalitatis discipulis fidium omnium. Quae Communitas Scholastica Catholica nititur--per educationem, ministerium, et cultus societatem quae tendit scire et factam esse Christum--instituere discipulos mente, moribus, societate, spiritu, ex sapientia Catholicae Ecclesiae ut actores in parochiae vita et duces morales et spirituales in Ecclesia et societate pro saeculo uno et vicesimo fiant.

تأسس المركز الكاثوليكي الطلاّبي في جامعة واشنطن بمبادرة كاثوليكية ليكون بيت استضافةٍ يلتقي فيه طلابٌ من كل المعتقدات. من خلال التعليم والخدمة والجماعة العابدة الطامحة إلى معرفة المسيح، يسعى المركز إلى بناء التلامذة فكرياً وأدبياً واجتماعياً بما يتماشى وحكمة الكنيسة الكاثوليكية، كيما يصبحون مشاركين نشيطين في حياة الأبرشية، وقادة روحيين وأدبيين في الكنيسة والمجتمع للقرن الحادي والعشرين القرن 21.